Automate any Trading strategy
Are you looking to set up automated trading with TradingView strategies?
Tickerly's fast and flexible service enables you to effortlessly automate any strategy on forex, stock, futures or cryptocurrency assets.
Supported Forex, Futures and Crypto Exchanges

"Excellent service! Quickest and easiest way to connect Tradingview strategies to exchanges.
Reliable service. Highly recommended!"
– KK on Trustpilot
"Have been using Tickerly for a couple of months now. Have to say the speed and accuracy of execution has been excellent. Not missed a beat so far and pretty easy to change my Trading View alerts over."
– Lloyd on Trustpilot
"Service works like they promise, its superfast and good helpdesk thats at your service at all time"
– Ruben on Trustpilot
How to start automating your strategies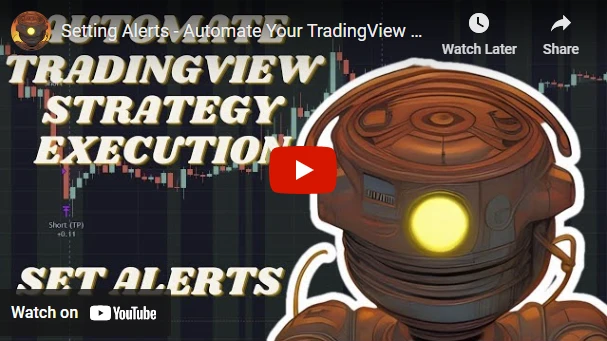 Choose Your Tickerly Plan


Begin by selecting the Tickerly subscription plan that perfectly fits your needs and preferences.


Seamless Exchange Integration
Effortlessly connect your exchange to Tickerly in just a few simple steps, ensuring a smooth trading experience.


Streamlined Alerts


Your strategy's alerts are sent directly to Tickerly, which swiftly executes the orders on your chosen exchange.


Embrace the Power of Automation
Sit back and relax as your TradingView strategies are executed accurately and automatically, allowing you to focus on other aspects of your trading journey.
Automated Trading Plans
Level 1
USD/month
Cryptocurrency Trading
Binance exchange support

Automate any TradingView strategy
Fast order execution
5 actives strategies
10 alerts per day
30 day free trial
Level 2
USD/month
Cryptocurrency Trading
+ Support for : ByBit, Bitget, KuCoin,
Kraken, BitMex and ApeX exchanges
Automate any TradingView strategy
Fast order execution
20 active strategies
100 alerts per day
30 day free trial
Level 3
USD/month
Forex, Futures, Stock and Crypto Trading
+ Support for :
Oanda, Capital.com and Alpaca exchanges
Automate any TradingView strategy
Fast order execution
Unlimited active strategies
1000 alerts per day
30 day free trial
A Introductory Guide to Automated trading on TradingView: How It Works and Its Benefits
Bot Trading and Strategy Implementation
Trading automation has revolutionized the way traders approach the market, allowing for more consistent and efficient execution of trading strategies. In this guide, we will provide an overview of Automated trading on TradingView, forex trading, and how it works on Tickerly. By understanding the mechanics of trading automation, you can make an informed decision on whether it's the right choice for your trading needs. Embracing automation can help you gain an edge in the market and minimize human error in your trading decisions.
Trading automation services enable you to automate any strategy developed or acquired on platforms like TradingView. Once you have a strategy in place, you can apply it to various assets, such as cryptocurrencies, crypto futures, forex pairs, bonds, indices, metals, and other CFDs. The strategy will contain the logic for when to buy, sell, and at what quantities, ensuring a systematic approach to your trading. Automating your strategy can help you maintain discipline in your trading, prevent emotional decision-making, and allow for more accurate execution.
Creating Alerts on Trading Platforms for Bot Trading
On TradingView, you can configure alerts that trigger when your strategy dictates specific actions, such as buying or selling to open or close a position. These alerts serve as the basis for automating your strategy execution, ensuring that your trades are executed in real-time as market conditions change. By using alerts, you can also monitor multiple assets simultaneously, increasing your trading opportunities and allowing you to diversify your portfolio.
Connecting Alerts to Crypto Bot Trading Automation Services
Once you've set up alerts, they can be linked to trading automation services, like Tickerly. It will convert the input from the trading platform into a format that your exchange can understand. Utilizing ultrafast servers, the automation service processes the information in a fraction of a second, sending the corresponding order to your exchange for execution. This rapid processing can help you take advantage of short-lived trading opportunities and ensure that your orders are executed at the most favorable prices.
Forex Trading Confirmation and Notifications
After placing the trade, your exchange will confirm or reject the order and notify Tickerly. The service will then inform you of the result, keeping you up-to-date on your strategy's performance without requiring any further action on your part. Receiving real-time notifications allows you to stay informed about your trades, evaluate your strategy's effectiveness, and make necessary adjustments to optimize your trading approach.
Setting Up for Crypto Bot and Forex Trading Automation
To get started with trading automation, all you need is a subscription to Tickerly, a free TradingView account, and a trading account at your preferred exchange. With guides and resources available to help you set up each step, getting started with trading automation is easier than ever. Taking the time to familiarize yourself with the setup process can help you maximize the benefits of trading automation and ensure that your strategies are implemented seamlessly.
Trading automation can transform the way you approach the market by executing your strategies automatically and reliably. By finding an effective strategy, setting up alerts, and connecting them to a crypto bot trading automation service, you can ensure consistent execution without having to monitor the market constantly and manually place each trade. Embrace the power of trading automation and unlock the full potential of your trading strategies. Incorporating automation into your trading routine can lead to improved performance, reduced stress, and ultimately, greater financial success.